Member Regional Governments

Japan
Join History
East Asia Regional Convention (the predecessor of NEAR, 1993~1995)
Niigata, Toyoma, Hyogo, Tottori, and Shimane joined in 1993
Kyoto joined in 1994
Aomori, Yamagata, Ishikawa, Fukui joined in 1995
Major Activity
As the need to establish an international Association consisting of local governments to promote exchange and cooperation between countries in Northeast Asia had raised, the conference of "East Asia Regional Convention", the predecessor of NEAR, was held in Shimane in 1993. 10 local governments from 4 countries (Korea, China, Japan and Russia) participated in the conference.
In the 2nd Annual Meeting of NEAR held in Toyama in 1998, the participation of Mongol and establishment of Economy & Trade, Culture, Environment, Disaster Prevention, General Exchange subcommittee were approved. In the 2nd Meeting of Working Committee in 1999, the activity of each subcommittee was reported and the sharing expenses was discussed.
At the 3rd Annual Meeting in Hyogo in 2000, the members agreed to jointly make efforts to lead participation of local government in North Korea to the Association. In the 3rd Meeting of the Working Committee in 2001, sharing some expenses to open a conference, and the approval for use of sponsorship were discussed.
After Toyoma became the coordinator of Environment subcommittee, which was established to easily promote individual projects related to environment such as cooperation for the environment, it performed an investigation of reclaimed lands and drifts along coast of East sea, cooperative observation for migratory birds, published environmental white paper 2003 and held "Symposium of International Environment in North East Asia".
Shimane taking coordinator of Educational & Cultural Subcommittee holds 'Wings of Northeast Asia Exchange in Shimane' to improve understanding of each region and friendly exchange between countries through exchange program for young people in Northeast Asia.
A Disaster Protection Subcommittee was established to improve responses for disasters happening in Northeast Asia. With central role of Hyogo, the coordinator in the subcommittee, information and personal exchange has been performed, considering the difference in responses for disasters and the variety of disasters like earthquake, flood, bush fire and draught.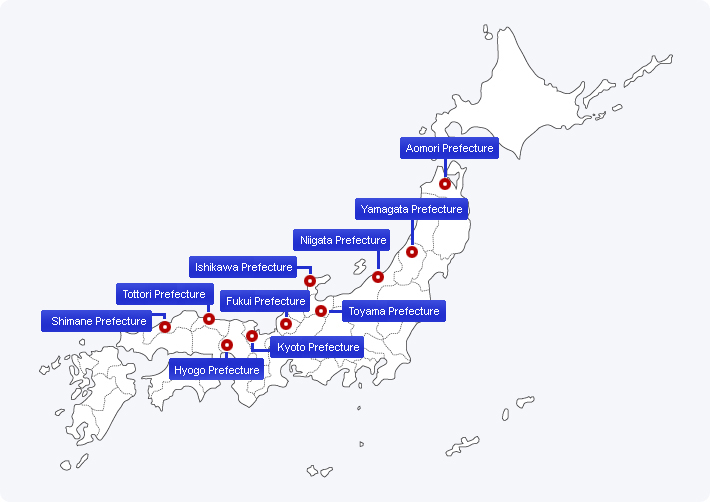 Contact Information
지역단체 목록

| No | Member Local Government | Tel | Address | Website |
| --- | --- | --- | --- | --- |
| 1 | Aomori Prefecture | +81-17-734-9218 | 青森県 青森市 長島 1-1-1 | |
| 2 | Yamagata Prefecture | +81-23-630-2123 | 山形県 山形市 2-8-1 | |
| 3 | Niigata Prefecture | +81-25-280-5052 | 新潟県 新潟市 中央区 新光町 4-1 | |
| 4 | Toyama Prefecture | +81-25-444-3158 | 富山県 富山市 新総曲輪 1-7 | |
| 5 | Ishikawa Prefecture | +81-76-225-1382 | 石川県 金沢市 鞍月 1-1 | |
| 6 | Fukui Prefecture | +81-776-28-8820 | 福井県 福井氏 大手 3-17-1 | |
| 7 | Kyoto Prefecture | +81-075 414-4351 | 京都市 上京区 下立売通新町 西入藪ノ內町 | |
| 8 | Hyogo Prefecture | +81-78-362-9017 | 兵庫県 神戸市 中央区 下山手通5-10-1 | |
| 9 | Tottori Prefecture | +81-857-26-7842 | 鳥取県 鳥取市 東町1丁目 220番地 | |
| 10 | Shimane Prefecture | +81-852-22-5840 | 島根県 松江市 殿町 1番地 | |
| 11 | Akita Prefecture | +81-18-860-1218 | 秋田県秋田市山王 4-1-1 | |